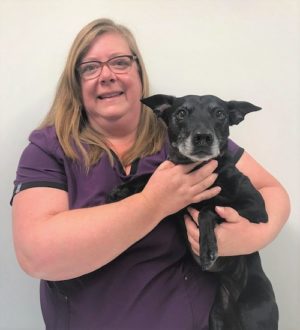 Veterinarian
Dr. Kelly Ciggaar graduated from the Ontario Veterinary College in 2001. She worked as a mixed animal veterinarian for 10 years and then then decided to continue as a small animal veterinarian only. She joined the Blue Cross Team in July 2020.
Dr. Ciggaar has a passion for Small Animal Rehabilitation and has received her certification in Canine Rehabilitation Therapy (CCRT) from the Canine Rehabilitation Institute in 2019. She has a strong interest in rehabilitation, sports medicine, geriatric care and laser therapy. She and her partner Marty have 3 dogs of their own. Jax, Jive and Rayne. All mixed breeds that play flyball and are very active.
She enjoys spending time outside at her home in the country, going to flyball tournaments and camping.