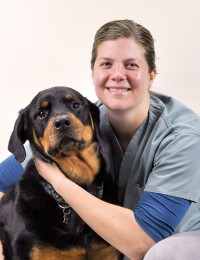 Veterinarian
Dr. Haardeng graduated from the Ontario Veterinary College in 2004 and has been a member of the Blue Cross Animal Hospital family since 2009. She became partners with Dr. Lutchin in 2011 when they purchased the clinic.
She and her husband Darin have 3 pets of their own: Leonard, a rambunctious mixed breed, as well as 2 cats, Frank and Mookie. They also have two young sons, Myatt and Cohen, who love to visit the clinic when they can.
Dr. Haardeng enjoys living in Hamilton, especially hiking the many trails it has to offer with Leonard and her boys at her side. She also enjoys attending concerts, practicing yoga, and reading. She has special interests in soft tissue surgery, pain management, and easing our senior patients into their golden years.