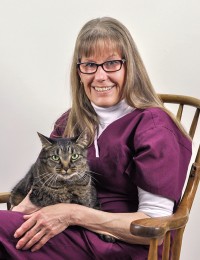 Receptionist / Animal Care Technician
Trish is the most well-established of the staff with more than 31 years at Blue Cross Animal Hospital! She has many responsibilities at the clinic and provides her expertise in exportation certification, technical lab duties, and computer maintenance & program care, while also happily answering phones to greet clients and families who she has known for ages.
Trish has lived in Hamilton her whole life and shares a busy household with her niece Lori, Lori's husband Jonathan and her great-niece Julia. The family share their home with two cats, Abbey and Angel, and one adorable Chihuahua, Lexie. In her spare time Trish also works at Hamilton Place and Copps Coliseum dressing performers for their shows. In her down-time from both jobs she enjoys attending car races and is a talented knitter. In fact, many Blue Cross staff members have beautiful warm scarves custom-made by Trish for "Secret Santa" exchanges over the years!