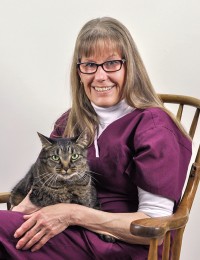 Receptionist / Animal Care Technician
Trish is the most well established of the staff with more than 25 years at Blue Cross Animal Hospital. Currently you can find her sitting behind the reception desk but don't let that fool you. She has many responsibilities at the clinic including but not limited to, animal care and handling, exportation certification, technical lab duties and computer maintenance & program care.
She has lived in Hamilton her whole life and shares a busy household with her niece Lori, Lori's husband Jonathan and her great-niece Julia. The family also consists of 2 cats, Abbey and Angel and one adorable Chihuahua Lexie. In her spare time she works at Hamilton Place and Copps Coliseum dressing performers for their shows. She also enjoys attending car races, knitting and supporting Julia in her many athletic pursuits.