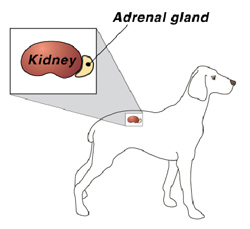 Endocrinology is the study of hormones and there are several common endocrine disorders found in dogs and cats. Hypothyroidism is often diagnosed in dogs. Hypothyroidism indicates that the animal has low levels of circulating thyroid hormone. The opposite is true for cats. They are frequently diagnosed with high levels of circulating thyroid hormones.
Some additional endocrine problems include Cushing's Disease and Addison's Disease.
There are many signs observable in pets with endocrine disease. These signs include (but are not limited to) the following: abnormal energy levels, abnormal behavior, abnormal drinking, urinating and eating behavior, excessive panting, skin disorders, and weight gain or loss. Please call for a consultation if your pet is experiencing any of the above signs. A physical exam will help guide testing protocols for your pet.