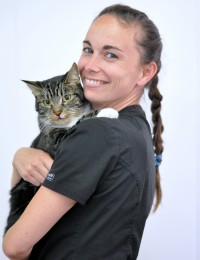 Veterinarian
Dr. Lutchin is a partner at the Blue Cross Animal Hospital. She has been practicing small animal medicine since her graduation from the Ontario Veterinary College in 2007.
She has enjoyed travelling the world, both professionally & personally, learning about different cultures' ways of practice and how the animal/human bond transcends all languages.
She and her partner Jeff live in the Hamilton community, along with Seve the tabby-cat. Seve has won over the hearts of both Dr. Kate and Jeff and is the apple of their eye. Dr. Kate and Jeff enjoy playing golf together, and Dr. Kate also enjoys spending time at the cottage, yoga and playing volleyball in her spare time.
Jeff and Dr. Kate were thrilled to welcome their baby daughter Kaitlyn to the family in early 2019! Seve tolerates his new little sister, and both of these cuties keep Dr Kate on her toes.